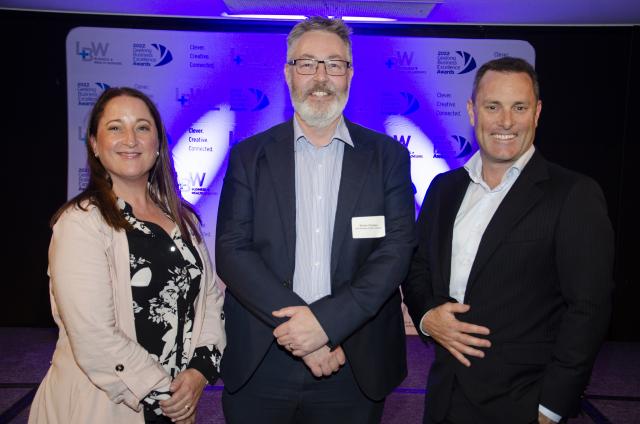 Ash Bolt
Business leaders from across the Greater Geelong region came together on Thursday to launch the 2022 Geelong Business Excellence Awards.
Previous award winners gathered at The Pier Geelong on Thursday, May 5 to launch the 2022 awards, which celebrate and recognise Geelong's business community.
Geelong Chamber of Commerce chief executive Ben Flynn said it was an exciting time for businesses in the region.
"I don't think there could be possibly be a better time to launch the awards," he said.
"As I talk to everyone around the room, confidence is high [and] people are getting back to business. We've got through that tricky period, there might be a little bit left over but there's a lot to be really proud of and really positive about in Geelong.
"Even if you look at the last couple of weeks, we've got the Commonwealth Games coming through, a new hospital and a multitude of other sort of promises that we hope to see coming through.
"Geelong is the place to be and what better way to play our part but to recognise those businesses that are really driving us forward. That's what the awards are all about."
City of Greater Geelong deputy mayor Trent Sullivan added the awards would recognise Geelong's multitude of "amazing businesses".
"The last 12 months have been a clear example of what the business community can do," he said.
"The pivoting, creating new opportunities, finding new sources of income, altering or adjusting how you provide your goods or services, has just been incredible. I need not tell anybody in here about the difficulties that faced especially in the world of lockdowns and ever-changing restrictions.
"So every business, in just surviving the last couple of years is deserving of recognition and awards in their own right. And it's been incredibly, incredibly tough.
"But the awards here are a perfect opportunity to celebrate viral success stories, which is coming out past couple years. I'm sure we will get some incredibly strong entries coming through this.
"If you're a business owner, business leader, entrepreneur, I strongly encourage everybody to apply because not only are these awards a great source of recognition, [they're] … telling the stories of what people are doing."
Entries are open through the Geelong Business Excellence Awards website until July 15, and the Chamber of Commerce will host online information sessions for potential entrants at 10am on May 12, 5pm on May 17 and 12pm on May 19.
Register at gbea.com.au.
The night also allowed the Geelong Chamber of Commerce to induct four businesses into its hall of fame, for receiving three business excellence awards over the past seven years.
Inducted into the hall of fame were CentreStage, Geelong Gallery, Sketch and Etch and the 18th Amendment Bar.