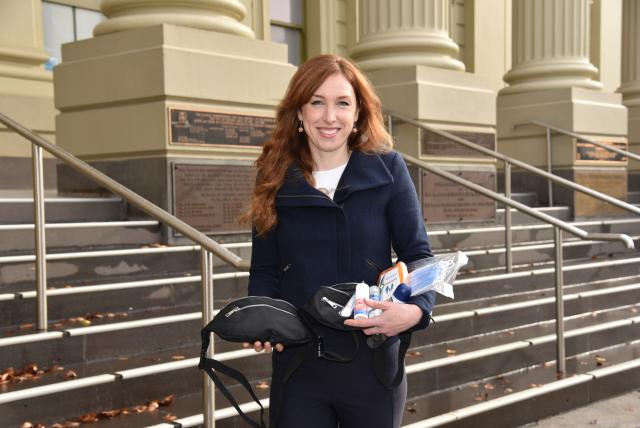 People who are 'sleeping rough' in the Geelong region will receive care packs that contain essential items.
The City of Greater Geelong has partnered with Community Care Chemist to provide an estimated 300 packs, each containing five standard items such as toiletries, along with a selection of other products tailored to suit the individual's needs.
Rough sleeping refers to people who live on the streets, and who often sleep in places that are not designed to be slept in, including building doorways, bus-shelters, parks, under-passes, cars and carparks.
Rough sleepers often do not have a place to live, or a place to call home.
The City will provide $15,000 towards the provision of the care packs that will come in a bum bag for those requiring assistance.
The provision of care packs forms an early step as the City continues to work with agencies such as NEAMI Towards home+ Geelong, Lazarus House, The Salvation Army, Barwon Children and Youth and Family (BCYF), to learn how it can best support people sleeping rough in the municipality.
Chair of the Social Housing Advisory Committee and Community Health and Aged Care portfolio holder Cr Sarah Mansfield said the initiative was consistent with the City's objective to see all members of the community treated with dignity and respect.
"There are many, often complex reasons why a person may end up living on the streets, whether that be financial stress, including job loss and gambling, housing affordability and relationship/family breakdown," Councillor Mansfield said.
"Some of the people sleeping rough may even have their own accommodation, however personal issues such as isolation, mental health or drug/alcohol dependency may prevent them from using their property as they normally would."
If you are homeless or worried about becoming homeless, seek support now.
If you are 25 years old or older, contact The Salvation Army Homelessness Barwon on 5223 5400.
If you are under 25, contact Barwon Child Youth & Family on 5226 8900.
If you are concerned about someone who is sleeping rough contact NEAMI on 1300 050 093.