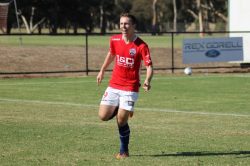 By Josip Zilic
North Geelong Warriors finds itself at the top of the NPL2 ladder after last weekend's 2-1 victory over promotion favourite Altona Magic.
Awaiting the Warriors is a trip to Moreland Zebras, coming off a scoreless draw against Melbourne Victory.
Moreland boasts a very experienced line up with former Victory A-league player Rashid Mahazi among its midfield.
Moreland's start to 2018 has delivered a win and three draws, marking the Zebras are a very difficult team to break down and Saturday's match won't be any different.
It will be interesting to see whether the Warriors' undefeated start to 2018 can continue after they performed strongly in trying conditions last Saturday in front of their faithful for the first time.
Michael Anderson continued his consistent scoring record against Magic, opening the scoring on 27 minutes when he pounced on an Andrew Scicluna through-ball to slot past Jonathon Harboglu.
With momentum building, several more chances came the Warriors' way including a narrow miss to Darius Madison who met a long throw from Michael Boyar only to see it glance off the crossbar.
In the 54th minute James McGarry upended Ryan Opperman just outside the box and proceeded to earn an immediate second yellow after slapping Boyar in the head straight after to receive his marching orders.
Madison took the set piece and if not for Harboglu's brilliant save would have notched up his second of the season.
The Warriors were coming hard and in the 80th minute when Thomas Hidic capitalised his substitute opportunity, receiving a Nicholas Teichmann through ball to outmuscle his opponent and finish smartly under Harboglu to send the North Geelong faithful into hysteria.
Altona tried to lift in the dying minutes and in the 90th scored from a long-range free kick but insufficient time remained to stage a comeback.
Warriors captain Anderson referred to the team's commitment to coach Luciano Trani's professionalism and drive after the match as the impetus to the bright start to 2018.