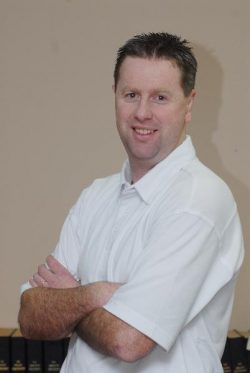 Local Cricket, by Jim Timberlake
Geelong Cricket Club finds itself in finals action for the first time since 2012 after a nerve-wracking day's play last Saturday.
Needing to defeat Dandenong to be assured of finals action, the Cats posted 8/312 on day one, thanks mainly to Brenton McDonald's 85 runs at number seven.
Needing to bowl the home side out to claim first innings points, the Geelong bowlers threw everything they could at their hosts but, on a day where nothing went right, Dandenong cruised to an incredible seven-wicket victory.
The Geelong players then had to rely on results in other games going their way, and when news came through that results had indeed been favourable it was jubilation as a long-awaited dream was realised.
Now the team travels to Schramm Reserve to play top placed Fitzroy Doncaster this weekend.
While Geelong's inspirational skipper will be unavailable due to state duties, the rest of the players will take in a nothing-to-lose attitude and may just cause one of the upsets of the season.
Geelong Cricket Association also kicks of its finals this weekend, and this season it's back to a final four comprising two semi-finals and then a grand final.
In division one, the race for the flag is wide open but North Geelong will go in as slight favourite having finished on top after a 12 gruelling rounds.
North Geelong takes on fourth placed Lara at Stinton Oval in a game that may well ride on the back of Lara's gun all-rounder, Andy Hughes.
Hughes has made an incredible 741 runs this season at an average of 82.33 while also picking up 14 wickets along the way. However, his fitness remains a mystery after retiring hurt during Lara's first innings against Grovedale last game and not bowling the following week.
North Geelong will know though that if it can bring its A-game then Hughes won't be a factor, as the side's best is better than anyone's.
The problem, though, is that North Geelong has been found wanting in recent finals campaigns and will need to banish some ghosts before convincing the rest of the competition of its mettle in March.
The other semi-final sees Grovedale take on East Belmont at Reynolds Reserve in a game between two very evenly matched teams.
Grovedale tuned up for the finals with a clinical run chase against Lara last game, Glen Talarico (80) the star.
East Belmont, however, got thrashed by South Barwon, bowled out for just 107 in pursuit of the Swans' 304. Admittedly the Lions were without a few of their stars so that form-line might not be worth much but it was still a chance for East Belmont's depth players to show their wares.
And that is what this game will probably come down to. Both sides have plenty of stars but it may well be their lesser lights that hold the key, and the side who can get more out of their role players will most likely win.
Selections: NORTH GEELONG v Lara, EAST BELMONT v Grovedale.
In division two, Bell Post Hill took out the minor premiership and will play Torquay at Walker Oval.
The Panthers have been ultra-consistent all season, while the Tigers go in with patchy form.
Bell Post Hill certainly has the more talented and experienced line up, which should hold it in good stead here.
The other semi, at Marshall between Bell Park and Marshall, and looks like one of the closest-matched finals in years.
Bell Park has looked ominous all season, particularly last game against Newcomb & District, where they took out outright points.
Marshall, though, has been going about their business nicely, and with a young side hungry for success, will be keen to inflict some more finals pain on the Dragons who will still have last year's straight-sets exit lurking in the back of their minds.
This game will go down to the wire, and all eyes will be on Bell Park's ability to handle the pressure.
Selections: BELL POST HILL v Torquay, BELL PARK v Marshall.
And in division three, Thomson will go in heavy favourite against Alexander Thomson at West Oval, while Modewarre will take on Geelong West at Jarvis Oval.
Thomson is the clear premiership favourite, having taken all before it this season. With pretty much all of its key players in good form at the right time, Thomson should progress to the big dance.
The Modewarre and Geelong West clash looks like being a much closer affair, though, especially with star Rams veteran Sam Loftus coming of a double 100 last game.
Modewarre has a golden opportunity to defeat Thomson a couple of rounds back but failed under pressure and will need to be mentally stronger to win this.
Selections: THOMSON v Alexander Thomson, Modewarre v GEELONG WEST.