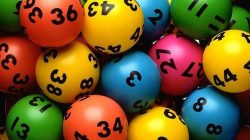 Thirty-three Queenscliff Men's Shed members will share more than a million dollars after their syndicate won the lottery on Saturday.
The private syndicate shared the division one prize with two other entries, to win $1,326,203.89 in Tattslotto's Saturday night draw.
Another two wins in division six took the total to $1,326,231.69, meaning each of the 33 men will take home $40,188.83.
The syndicate leader was flabbergasted when a lotto official phoned to tell him the result on Monday morning.
"Bloody hell! Excuse my French," the man laughed as the news sunk in.
"Fair dinkum? Let me write that number down. Am I allowed to panic? Just fantastic! How much was it again?
"I'm in a syndicate with a few of us from the Men's Shed. That's fantastic! That's brilliant! Thank you."
The syndicate leader said he was just happy to share the prize with his friends and looked forward to sharing the news.
"I think I'm just going to enjoy the moment for now," he said.
"It's good though – it's great to share it with 33 people. They'll be very happy.
"We've been going in together for a long time and every time I go in to the Men's Shed they always ask me 'How did we go?' and I tell them 'It would be nice if you ask me how I am first!'
"We'll celebrate nicely, I'm sure there will be a big presentation here.
"I think I'll call them today – I'll call one and get them to spread the news around."
The syndicate purchased the winning entry from Drysdale Lotto.
The Indy spoke to two members of the Men's Shed, who wished to remain anonymous until the syndicate leader had sorted out the winnings.
"They will be sitting around having a cup of tea with a smile on their faces at our weekly meeting on Thursday," one of the members said.