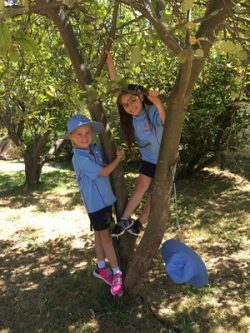 A positive approach to education is central to the philosophy of Torquay's newest primary school, Lisieux Catholic Primary School.
The school's approach works to combine best practice teaching with an explicit focus on well-being.
Principal Dr Susan Ryan explained that while many schools have traditionally aimed for academic excellence as evidence of their success, a more holistic approach may be better suited to foster the flourishing of the whole person and equip them with skills for life
"Unfortunately, in education today we have seen increasing evidence of psychological distress and mental illness in our children and adolescents and we know that young people have concerns about coping with stress, school, study and body image, even from a young age," Dr Ryan said.
"The great news is that research clearly shows that if we focus on well-being we will also see a direct impact on academic success. It's a win-win formula."
Dr Ryan explained that Lisieux is working in partnership with acclaimed psychology researcher Professor Lea Waters and her program Visible Well-being.
"This approach helps students and staff systematically build their own and other's well-being and is built on the premise that when we feel good, we function well," she said.
"Our program is unique because as well as our ongoing relationship with the Visible Well-being program, we are seeking to provide students with lots of opportunities to connect with their local environment, which significantly impacts child development in every sense. It supports intellectual, emotional, social, physical and spiritual growth; it supports creativity, improves self-discipline and reduces stress."
For more information about Lisieux Catholic Primary School, visit lisieux.catholic.edu.au. School tours can be organised by phoning the school or emailing the Principal via susan.ryan@lisieux.catholic.edu.au.
Lisieux is currently accepting enrolments applications for Prep to Grade 6 for 2019.