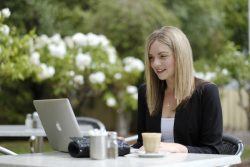 For Belmont graphic designer and brand strategist Kate Dewey nothing beats helping others achieve "their version of success."
Whether working with media companies, politicians or timber providers, Kate relishes the challenge of meeting their design needs.
"I love when I'm working with a client and they say, 'that's exactly what we wanted, you've hit the nail on the head.'"
Kate started her own business, D & Co Studio a little over three years ago, after several years running a business with her then-husband before they split.
She has more than a decade of industry experience but was "not financially savvy nor business savvy", she admits.
"When you start your own business you don't know what you don't know."
That was where the Geelong Business Excellence Awards came in.
Kate entered her business last year and made the finals of the Emerging Business category.
But meeting the judges and experts who gave "another perspective" was more important for Kate.
"It's actually been a big growth process," she says.
"It really shines a light on what you're doing incredibly well and things you can address and improve on."
She looks forward to again getting great advice and a clear picture of her progress to date.
"And maybe an award – that would be nice!" she says.