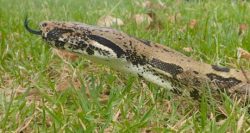 By Luke Voogt
A snake big enough to eat a "small dog" slithered through Whittington last month before local residents cornered it outside Splashdown Leisure Centre.
The residents caught the two-and-a-half metre boa constrictor on a nature strip on Coppards Road across from the pool on 24 February.
St Albans Park resident Jason Picone pulled over when he spotted the boa to protect it from being run over.
"When I first spotted it, it virtually stretched from one side of the road to the other," he said.
"I almost sh*t myself. Just the size of it… I couldn't believe it."
Several motorists had pulled over when Mr Picone phoned Leopold Wildlife Rescue, but no one answered.
So some of the residents, including a local snake owner, caught the boa and put it in a bag, Mr Picone said.
Mr Picone recorded the incident on camera. He said the boa was largest snake he had seen, except on the news or in captivity.
"That's probably the closest I've been to one," he said.
The snake looked big enough to swallow at least a small dog, he added.
Crime Stoppers released an image of the snake last week effort to identify its owner and determine how it got loose.
Boa constrictors are illegal under State and Federal Laws, and can harm native wildlife, Crime Stoppers chief executive officer Erika Owens said.
Boas can carry a virus called Inclusion Body Disease, which is fatal for Australian pythons because they have no resistance to it and there is no treatment available, Ms Owens explained.
"Boa constrictors are among the top five high-risk invasive animals commonly found in Victoria."
Ms Owens said community involvement was imperative in preventing an influx of illegal wildlife into Australia.
"The community is vital in the prevention of illegal wildlife trafficking and the smallest detail could help to ensure our native wildlife is protected," she said.
Ms Owens urged locals to call 1800 333 000 and quote reference number CSV2670 if they had any information relating to the snake.
"There is no piece of information too big or too small, and anything you tell us will be passed to investigators, in complete confidence if you wish."
The snake is now in the custody of the Department of Environment, Land, Water and Planning.
Boa constrictors are native to the tropical regions of North and South America and significant penalties apply to anyone importing breeding, trading or keeping illegal non-native species in Australia.