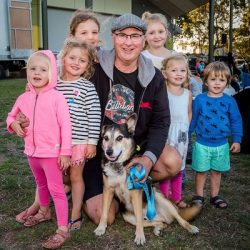 Ocean Grove's dog-friendly outdoor cinema returns on Saturday with organisers expecting about 100 pooches and 500 human companions.
After putting the event together for the last two years, Cherished Pets director Alicia Kennedy was still unsure if dogs enjoyed the pet-themed movies.
"How do we know if they watch the film?" she laughed. "Some certainly seem to.
"From observing them over the last few years they love it, but it's more they love snuggling up in the blankets and pillows with their people."
Alicia encouraged people to come along with "well-behaved and socialised dogs on leads" for a gold coin donation to the Cherished Pets Foundation.
"We've run it for two years and there's never been an incident – most of them don't even bark,"
The night will feature food trucks and stalls, children's activities, some of Ocean Grove's best musicians and two local canine coaches running a dog activities corner.
"If it's hot we'll have splash pools for the dogs," Alicia added.
Cherished Pets Foundation provides a social veterinary service to elderly folk and people with disabilities.
The event begins at 6pm on Saturday at Ocean Grove Park with the movie The Secret Life of Pets kicking off at sunset.
Alicia encouraged anyone interested to email admin@cherishedpetcare.com.au or phone 0439094379.