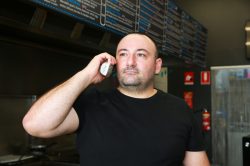 By Luke Voogt
Optus has cost a young Highton family thousands of dollars by disconnecting a landline to their business for six weeks, according to the furious owner.
Highton Fish and Chips owner Pasquale Di Maio said the phone company had only reconnected the line this week after he contacted the Victorian Ombudsman.
"When it goes for that long it's devastating," he said.
"You invest an enormous amount of money and effort in building a business."
Mr Di Maio contacted the company almost daily for six weeks to fix the line, he said.
"They've made a few errors in which technicians they sent out. This went on day in and day out until we contacted the ombudsman."
Optus had since offered $300 in compensation, a paltry sum compared to the loss of business, Mr Di Maio said.
"The dollar figure is very hard to estimate but we would have lost at least 10 times that per week alone.
"People phone ahead – they have busy lives and less time than ever. When you're a takeaway shop it's the main way you get costumers."
The phone error had "stripped the goodwill" from his existing customers too, he said.
"The customer thinks your business is closing when they call the line. People know we're a busy shop and now they think we're not even there."
The ordeal caused unneeded stress for him and his wife Melissa, who are raising two-year-old boy.
"We work our asses off," he said.
Mr Di Maio refused to pay the phone bill until he was adequately compensated and said he was prepared to take the case to VCAT.
"We don't want a thing that we wouldn't have made (if the phone was working).
"We're paying for a service – why should we as a consumer should we wear that cost?
"It's like if someone pays us and then we turn around and say we're not going to give them their orders."
An Optus spokesperson apologised for the error and said the company had failed to deliver on its costumer service standards.
An "internal error" caused the disconnection and when Optus attempted to restore the service, the company identified the premises as "NBN ready", the spokesperson said.
This meant Optus had to confirm the service could function outside of the NBN before hiring a third party to reconnect the services, the spokesperson explained.
The spokesperson declined to state how much Optus initially offered Mr Pasquale or justify the amount.
"Optus is currently working with the customer regarding compensation," they said.