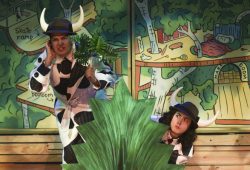 By Luke Voogt
German spy cows, angry duck security guards and "legendary" film producers come to Geelong next month to bring The 78-Storey Treehouse to life.
"It takes lightning-fast costume changes and lots of accent changes," said young Queensland actor Tim Carroll, who plays the three roles in the energetic play.
"I have to look down sometimes and see what I'm wearing to remember which character I am."
Carroll has performed in Australian productions of classics like Carrie and Grease but has never done a show with "as much hype" as The 78-Storey Treehouse.
"It's like when you watch videos of younger girls at Beatles concerts screaming – the kids are like that," he said.
Bringing the Andy Griffiths book to life was Carroll's most enjoyable gig to date, he said.
"I kind of pinch myself every day – I get to have fun with my closest friends.
"(The cast) get on like a house on fire. We're like one big family which is good because we're going to be touring for a while."
But the play could get tiring at times – especially with critics of the book close on hand.
"If we slip up or say a line wrong about 10 children from the audience will scream out the correct line – so we definitely have to be on our toes," he said.
"But all we need to hear is those kids laughing and cheering and that gives us the motivation to push through."
It will be Carroll's first time performing at Geelong Performing Arts Centre, when The 78-Storey Treehouse hits the stage on 2 and 3 March.
The play, based on the work of children's author Andy Griffiths and illustrator Terry Denton, brings to life the treehouse that just keeps on growing.
With yet another 13 levels, it's now got a Scribbletorium, a high-security potato chip storage facility, guarded by one very angry duck, and an open-air movie theatre.
And Andy and Terry are going to be famous! The legendary Mr Big Shot has arrived to make a Hollywood blockbuster.
But when his first step is to fire Andy and replace him with a monkey – Mel Gibbon – the battle is on.
Will the Treehouse Blockbuster ever get made? Who will win the battle of Andy and Terry? And why are those mysterious spy cows turning up everywhere?
The 78-Storey Treehouse book was Australia's fasting selling book ever on release.