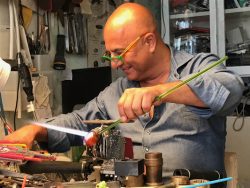 The Festival of Glass Expo kicks off in Drysdale on Sunday after months of lead-up events on the Bellarine Penisula.
An expected 4000 to 5000 visitors will see almost 50 stalls of colourful art, and demonstrations of glass sculpture, jewelry, mosaics and home wares.
The expo features the 2018 Glass Art Awards and the treasure hunt draw.
Local sleuths have searched the windows of Bellarine businesses since January in the hunt for glass treasures.
Their efforts will pay off at the treasure hunt draw, which features 150-plus prizes worth more than $4000.
The Expo will also feature the launch of the annual Festival of Glass Mentorship Programme for local year 11 visual arts students considering careers as glass artists.
Over six months, three recipients will receive personal tuition by established, professional glass artists.
The mentorship programme helps local aspiring glass artists develop their skills and encourages the community to celebrate their talents, according to organisers.
The Expo starts 10am and runs until 4pm at Drysdale's Christian College.
It is the flagship event for the festival, which has featured a unique variety of events so far this year.
January saw the start of Glass Inspirations, a glass art exhibition at The Bungalow restaurant in Drysdale, that runs until March.
Last Sunday the festival's pace picked up, with the Bellarine Historical Society's annual Historic Bottle Evaluation.
This Saturday night Venetian glass master and festival artist-in-residence, Mauro Vianello, will blow and sculpt in front of packed room at Leura Park Estate in his show Twilight Flames.
Like last year his show sold out weeks in advance.
Vianello will continue his demonstrations at the Expo, and run classes for beginning and experienced glass artists.
The festival continues into March with four local artists running classes in specialist glass-working techniques.
For more information visit www.festivalofglass.net.au.