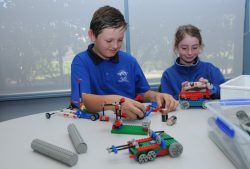 Bell Park North is a well-established foundation-through-to-grade-6 school servicing the Geelong suburb of Bell Park.
The school strongly believes that effective teaching and learning is essential to the ongoing development of all children in preparing them for their future. The teaching and learning philosophy of all staff is aligned to the specific needs of each student using multi-disciplinary approaches and preferred learning styles which reflect current and technological trends.
The school's team of enthusiastic and dedicated teachers and support staff are committed to maintaining best practices for teaching and learning so that the best possible learning outcomes are achieved.
Bell Park North demonstrates their academic rigour and excellence which they instil in students by setting high expectations and delivering all learning experiences at a high standard.
This encourages students to develop into self-disciplined, self-regulated, knowledgeable and independent learners.
Bell Park North maintains a strong focus on continuing to improve in the areas of English and Mathematics and have been extremely proud of the growth children have been making.
Their positive school based programs and learning and leadership opportunities assist students in becoming resilient and effective team members who are able to integrate and deal with all situations.
Bell Park North is proud to be a Kids Matter and Healthy Achievement School where they support the mental and physical health and wellbeing of every member of their school community.
Bell Park North Primary School applauds the commitment and dedication of each and every member of their school community whose dedication, hard work and support make their school the successful learning environment it is today.
Bell Park North Primary School's open day is on Wednesday May 23, with tours at 11.30am and 12.30pm. For more information, phone 5278 3548.