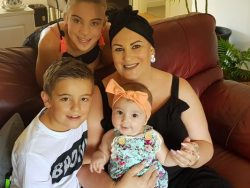 By Luke Voogt
Geelong mother-of-three Kylie Blackney has fought breast cancer like a super hero, says best friend Sarah Beath.
"We're calling her Wonder Woman because that's what she is," Sarah told the Indy this week.
Kylie had been working between chemo sessions since they began on 8 January but still managed to attend her childrens' first day of school, Sarah said.
"She's amazing – she's so positive about it all. At the moment we're just doing chemo to see if or how much the tumour shrinks."
Two weeks before Christmas doctors diagnosed the 36-year-old with stage-three invasive carcinoma, a few months after she gave birth to her third child.
When Sarah discovered Kylie had breast cancer she vowed fight it with her.
"My husband passed away last year and my father passed away from cancer when I was 25," Sarah said.
"I'm thinking, 'I can't lose you too'. I told her, 'I'm going to do everything I can to help you'."
Sarah organised a fundraising day for Kylie, which begins 11am at Bell Park Sport and Recreation Club on 4 March.
"We've had quite a few people contact us with offers donations and raffle prizes for the day," Sarah said.
"There's lots of love and support in the community – it's great."
Also in Kylie's corner was champion boxer Danny Green, Sarah said.
Green, shaping up for a rematch with fellow-champion Anthony Mundine, had donated raffle prizes through a mutual friend of Sarah's.
"We hoping he would be able to make it to the event but he's gone into the jungle," she said.
Sarah set up a Go Fund Me page which had raised more than $2500 on Wednesday afternoon.
The fundraising page is at gofundme.com/kylie-needs-our-help.