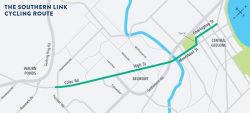 By Luke Voogt
Geelong council's planned bicycle network will wipe out local businesses and cause major traffic congestion, according Moorabool Street traders.
South Geeelong takeaway owner Vincent Tan said council's plan to remove three car parks near the Barwon River bridge would destroy his business.
"We won't recover from the loss."
Mr Tan said more than half of his customers used the car parks.
He urged council to find another location for the bike path.
"There are ways of doing this without killing business," he said.
"We're strongly against the current proposal but we're happy to work with council to find an alternative."
Moorabool Street petrol station operator John Verikios said the plan would "wipe out" Mr Tan's store.
"When you're trying to run a business and raise a family, you shouldn't have to think about this sort of thing," he said.
Mr Verikios said Moorabool Street would lose a turning lane at the corner of Fyans Street, creating congestion to the bridge.
"It reaches almost halfway to the bridge now already. Any more than two cars in sequence turning left will hold up traffic."
He was shocked to discover council would begin work on the project in the second quarter of 2018 and described the plan as "secretive".
"We got a letter dumped on us on 8 January when everyone is on holiday," he said.
Local bike advocates have cited research that 60 per cent of people would consider riding on bike paths, which they say would reduce car traffic.
But Mr Verikios doubted that "people in their thousands will get on their bikes" once the cycling lanes were complete.
He criticised council's justification for the plans, which included public consultation for its 30-year Clever and Creative Future vision.
The survey for the vision asked "loaded" questions about riding, he said.
"Maybe they should have asked instead, 'Are you happy to have increased traffic congestion in exchange for better paths for cyclists?'," he said.
Mr Verikios joined several traders in High Street opposing the plan.
"People in Belmont will lay on the street before they let this go ahead."
The TAC funded the project, which plans the removal of 49 car parks from Moorabool Street, and 35 car parks and one lane in both directions on Gheringhap Street.
"The proposed design of the routes, including the number of car parks, cycling and car lanes will not be finalised until community consultation is complete," said council's director city services Guy Wilson-Browne.