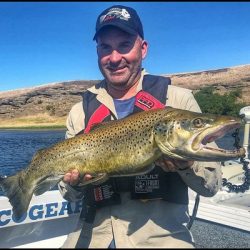 On the Bite, by Chris Pitman
Corio Bay again hosted excellent fishing for a mixed bag of fish again over the past week.
Flathead, pinkies, pike and, at times, Australian salmon all found their way into angler's bags.
Venturing over to the Bird Rock area, Daniel Baden and I boated a few reasonable-sized flathead on Sunday morning, including a nicely sized rock flatty. The lure of choice was Gulp turtleback worm in pumpkinseed.
Large pike continued keeping anglers busy on the spoil grounds both inside and outside the bay.
Whiting captures increased along the Bellarine Peninsula, with fish holding in 5m to 7m from Portarlington to Queenscliff. The Bourke St area off St Leonards was the most consistent location, while pippies or tenderised squids bait fished in a bit of tidal flow worked well.
Gummy sharks averaging 90cm to 1.1m were in great numbers though out the bay. Deeper water out from Clifton Springs and Portarlington were popular locations, along with pilchard baits.
Queenscliff Harbour continued producing silver trevally for anglers casting soft plastics in the main channel on slack tides.
The Rip was still kingfish central. Knife jigs and fresh squid accounted for fish to 10kg.
Salmon also schooled up in large numbers around The Rip, devouring almost any bait or lure in their path.
Bluefin tuna were present offshore from Ocean Grove and Barwon Heads, schooling in large number in water around 20m deep.
At times the tuna were very selective in what lure they would hit but small minnow soft plastics did the job, along with stick baits like the Bass Day Bungy.
Kingfish also patrolled the same area, with white occy skirts accounting for numerous fish.
The Barwon River estuary fished well for large black bream. Fresh bait was key, with live Bass yabbies doing the trick on fish to over 40cm on the last of incoming tides.
Freshwater angling was impressive again.
Tim Beusmans and Victorian Inland Charters' Michael Evans spent a few hours fishing Lake Purrumbete, enjoying a ripper session. Tim boated a 75cm, 8.4lb brown trout along with another thumper of 75cm and 9.8lb before Michael finished the day with 78cm, 8.4lb fish.
Michael also caught the redfin on soft plastics, with the odd rainbow trout thrown into the mix.
Lake Bullen Merri's Chinook salmon kept snapping up baits fished among strong berley trails. Down rigging accounted for a few salmon, with the best depth around 11m.
Trelly's Geelong's Peri Stavropoulos and Adam Van Der Lugt took a run down to the Great Ocean Road streams. Peri tried his hand at fly fishing, landing a nice brown trout on a nymph.
Next week should offer stunning pelagic fisheries offshore, while the bay could be worth fishing for snapper off Clifton Springs. Freshwater anglers would do best fishing for trophy trout at Purrumbete or Bullen Merri.