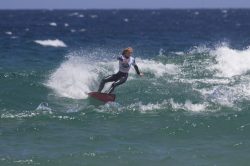 Jan Juc teens Bella Wilson and Xavier Huxtable have claimed top honours in the opening round of the Victorian Junior Surfing Titles in small waves at Phillip Island.
Wilson, last year's open division champion, narrowly fought off determined Phillip Island local Daisy Corbett, who kept her on her toes in the final on Sunday.
"The waves were pretty tricky, but I am stoked to start off the year with a win in the first event of the junior series," Wilson said.
"I can't wait to surf in the rest of the events"
Huxtable, the 2017 Victorian under 16 champion, used his knowledge of rip bowl conditions to win the final with a massive heat total of 18.
"I'm completely stoked to take the win here at Cape Woolamai – the waves were really good!" Huxtable said.
"Everyone was ripping in the final, but also throughout the whole comp, all the boys had a real dig over this weekend."
Huxtable's younger brother Ethan came second in the under 16s, narrowly going down to Newhaven's Codie Jeffery.
Barwon Head's Ellie Harrison, last year's Australian under 14 girls champion, reigned supreme with a convincing total heat score of 17.17.
The under 14 boys was a hotly-contested battle with Patrick Hughes (Jan Juc) and Willis Droomer (Torquay) going blow to blow in a tight encounter.
Hughes (14.27) narrowly edged out Droomer (14.20), whilst third went to Tanner Reid (Jan Juc), followed by his twin brother Jye who finished fourth.