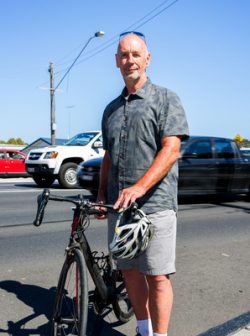 By Luke Voogt
Plans to remove road lanes and car parks for bike paths could boost business along Belmont's High St, according to a cycling advocate.
"I honestly think it would benefit the traders," said Bike Safe president Barton van Laar.
"If an agreement can be reached with the traders I think in the long term it will benefit business."
Readers almost unanimously slammed the plan on social media after the Indy reported traders' concerns last week.
"People on bikes are not going to be shopping there but people in cars will, stupid idea council," posted Nola Bufton.
"It's hard enough finding a car park around High Street most days as it is, why make it harder just to make the Lycra brigade happy?"
But Mr van Laar pointed to studies in Europe and the US that showed cyclists shopped more than motorists and better cycling paths had increased turnover.
"There has always been resistance at first but experience overseas shows that when you do implement these changes it benefits everyone," he said.
Less than one per cent of Geelong commuters ride to work, but Mr van Laar said this was due to poor infrastructure and workplace facilities.
About 15 per cent of all people in Geelong ride a bike at least once a week, he said."Research has shown that if you build safer infrastructure, separated from vehicles, up to 60 per cent of all people will consider riding a bike.
"These paths are not for the Lycra brigade – they're already riding – but for everyday people that want to ride to the shops, school and the city."
The "younger, more professional workforce" and new Deakin University students moving to Geelong greatly increased the need for cycling corridors, he said.
"They're the prime candidates who want to ride the bikes.
"The Deakin Waterfont campus alone does not have enough car parking available for all its students and staff, and viable alternatives are desperately needed."
Deakin and organisations like the TAC and Worksafe had built showering and bike facilities, making cycling more attractive, Mr van Laar said.
Better bike infrastructure would decrease traffic in Geelong and have "obvious" health benefits for the city, he added.
The network would provide "strategic" connections from Gheringhap and Moorabool Streets to Armstrong Creek, Belmont and Waurn Ponds, and to a separated dual bike lane on Barwon Heads Road after the road's duplication, Mr van Laar said.
He said having the network run through High Street would be a "bonus" but he acknowledged traders' concerns about parking and the need for compromise.
City of Greater Geelong's Guy Wilson-Browne said the proposed Principal Bicycle Network would run through High Street.
But he assured traders that City Hall would only design the section between Mount Pleasant and Roslyn roads after consultation with traders and the community.
"A workshop with the traders has been organised for mid-February," he said.
According to Census data, cyclists account for two per cent of the more than 40,000 trips to and from central Geelong each day.