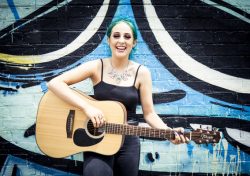 By Luke Voogt
Tayla Meddings' musical battle against mental illness has earned her a nomination for a state-wide award.
The Bell Post Hill teen will feature in the Victorian Young Achiever Awards after helping to raise more than $6000 from charity concerts and trivia nights.
"Music can definitely change people's lives for good," the 19-year-old told the Indy this week.
"I suffer from mental health issues as well, so it was really amazing to use my talents and passion to help other people."
Tayla helped found the Geelong Music Community Collective last year following the suicide of Audioslave front man Chris Cornell.
"I grew up listening to his music and I sing a few of his songs," she said."It was a real shock to hear that someone who shares the same talent and same mindset would do something like that.
"My father's band and I decided to get a few bands together and do a tribute."
The collective's 50 musicians have since performed tributes following the deaths of Linkin Park lead singer Chester Bennington, Cornell's close friend, and David Bowie.
Tayla raised money for Geelong's IMPACT mental health centre after growing up with anxiety and depression.
"I've had it since I was about 13 and I really struggled with it growing up – especially through school," she said.
"I grew up without my mum so a lot of my songs show that."
Tayla struggled to fit in at school – so she changed the way she acted, dressed and looked.
"When I did fit in I changed who I was and that was quite scary," she said.
"I used to put other people down because of how scared I was myself. I wasn't happy with the person I became."
Tayla immersed herself in music after high school and became her "own person" again, writing several original tracks.
She has sung and played guitar since age 8, drawing inspiration from her dad's band.
"I used to follow him to the recording studio and I'd practice while they were practicing."
She has also raised money for the Maude Rural Fire Brigade, Relay for Life and the homeless in Geelong.
Nominator Olivia Dean described Tayla as a bright, friendly and caring role model.
"It's a really big privilege to hear that," Tayla said.
"I just want to keep making music that makes people happy."
Tayla joined Dean Cardigan, David Greenwood, Aamir Qutub, Thomas Banks, Georgie Demir, Geelong Edge Youth Arts group, MSRF Dream Seeds Program and Tristan Grbin in representing Geelong and the Bellarine Peninsula at the awards.
For help or information contact Lifeline on 13 11 14, or beyondblue on 1300 224 636.