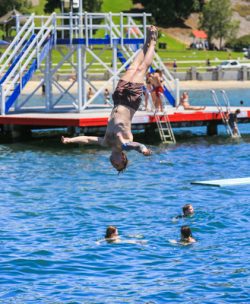 Eastern Beach offers the cleanest swimming this summer, according a new report on water quality at bayside beaches.
The iconic venue topped the Environmental Protection Authority (EPA) report on forecast water quality for beaches around Port Phillip and Corio Bay.
The top-placing gave Geelong and the Bellarine Peninsula a clean sweep of the top four, with Portarlington, Queenscliff's Santa Casa and Drysdale's The Dell the next three on the list.
St Leonards finished seventh, leaving local beaches filling half the top 10.
The Mornington Peninsula's Safety Beach, Sorrento, Dromana, Portsea and Rosebud rounded out the top 10.
Beaches closer to Melbourne failed to rate a mention.
The EPA's Andrea Hinwood said water-quality "performance" was based on forecasting data provided to the public through EPA's Beach Report service, updated twice daily during summer.
"The Beach Report forecasting service provides the community with information about predicted water quality at 36 of Port Phillip Bay's beaches, which can be either good, fair or poor," Dr Hinwood said.
"Good forecasts equate to suitable swimming conditions, fair means beaches may not be suitable, while poor forecasts advise that beaches are not suitable for swimming."
Beaches in Port Phillip and Corio bays had "performed well" over summer so far, Dr Hinwood said.
But she warned swimmers to remain award of risks after heavy rain when pollution had flooded into the bays through stormwater systems.
"Heavy rain, such as that experienced in the lead up to Christmas, is often associated with poor water quality at beaches across Port Phillip Bay.
"EPA advises people to avoid swimming near stormwater or river outlets 24to 48 hours after rain or in areas where water is discoloured, or debris, oil and scum are visible."
The forecasts were based on latest weather conditions, 26 years of water-quality history, recent bacterial sampling results and pollution reports, the EPA said.
The forecasts are available from the EPA's Twitter account, @EPA_Victoria, or via SMS alerts available at yarraandbay.vic.gov.au.