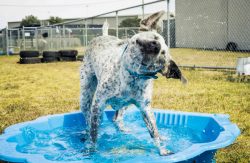 Australia and the USA have a long history of fighting battles on beaches, but the Wieland Shield is a friendly rivalry.
Now in its 25th year, the event pits the best surf life savers from Victoria and California against each other.
One of the more interesting stories to come from the event was that of two-time Olympian Azad Al-bazari, who was born in Saudi Arabia, competed for Syria at the Olympics and now lives in the US where he is a Los Angeles County Lifeguard.
"In California, our beaches are long with many lookout towers along them. Here, there are so many bays and headlands – it's so pretty," Azad wondered.
"Thanks for the unreal hospitality from one surf lifesaving club to the next – definitely great times."
Certainly Azad is a humble gentleman, which, to many, might put him at odds with his country's president.
A donation drive with a difference spared GAWS' 70-odd resident doggos from a ruff time on Saturday as the mercury reached a scorching 42 degrees.
Each pup paddled playfully in their own private wading pool thanks to the efforts of dog-loving locals.
"They were splashing around having a great time," said the centre's Jody Dickson.
"They really did need all the cooling off. It gets quite warm in the pens."
The animal welfare centre collected 60 pools while Leopold Bunnings customers chose sausages over hotdogs, chipping in the last 10.
GAWS dog Max couldn't get enough of his new pool on Wednesday.
"He needs a bit of training but he's a lot of fun," Jody said.
He certainly entertained the Indy's photographer, who struggled keep the perky pooch in one place long enough to take a snap.
"He's a bit of goofball too. He's very playful with the other dogs – he loves them," Jody added.
The happy hound is searching for a new human to love too, but Double Take reckons he might prefer an owner with a backyard pool.
Has former mayor Darryn Lyons found a few love?
Before fiancé Elissa Friday reaches for one of his cricket bats, Double Take will explain that it's in fact Geelong itself apparently losing hold of Dazza's heart.
Previously known to have eyes only for the city by the bay, the colourfully coiffured one now seems increasingly enamoured of his luxurious new beachfront digs in far north Queensland.
Associates say he's spending ever more time with his two-storey mistress, soaking up the tropical fun and sun far away from the demands of work and politics in Geelong.
Sure enough, there he was this again week, tweeting a shirtless poolside selfie from his outdoor office "with the Coral Sea right behind me".
Now that's tough competition for Geelong – talk about torn between two lovers.
Given his stated interest in a run at state parliament, certain local pollies might be happy to play removalist if he shifts before November!