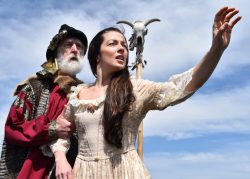 Magic, revenge and romance play out in the summer evening when the Shakespeare's The Tempest comes to the Geelong Botanic Gardens this weekend.
The play tells of the tale quarreling survivors of a terrible shipwreck who wash up on a lonely shore.
The survivors come across the remote island's enchanter Prospero (Bruce Widdop), who raises his staff and summons the spirits of the sky, creating a mighty tempest.
The embittered Prospero, the Duke of Milan, plots to restore his beautiful daughter Miranda (Sorcha Breen) to her rightful place using illusion and manipulation.
Ozact's cast bring the legendary playwright's story to life among the ornate fountains, statues, trees, ferny glades and lawns of the gardens.
The group has performed at the gardens for a decade, which Widdop described as a superb match for Shakespeare's plays.
"We are excited to bring The Tempest back as our production for this season's tour of Shakespeare in the Great Outdoors," he said.
Widdop directs The Tempest as well as playing the lead character.
He joins the cast of Andy Delves, Matthew Young, Michael Davidson, Kyle McDonald, William Lark, Luke Ingham, Eleanor Ruth, Kira Burnett and Lisa Widdop.
"This production is full of suspense, high drama and broad comedy, embellished with exquisite costumes, and beautiful music," he said.
The play runs at the Geelong Botanical Gardens from 4pm on Saturday and Sunday.