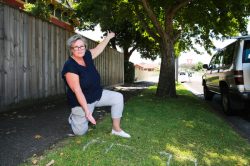 By Luke Voogt
An East Geelong resident has won her battle against the NBN Co to have the site for an "atrocious" green box relocated.
Pam McGarigle was furious when she phoned the Indy last week after discovering workers spray-painting the location for the metre-high cabinet on a nature strip outside her home.
"Where has our consultation been?" she asked.
But following Indy enquiries the NBN Co decided to change the planned location of the fibre to the node box.
"It shows with consultation and common sense a positive result has occurred," Mrs McGarigle said.
"It's now at the end of the car park near the church where my husband Geoff originally suggested."
Mrs McGarigle was convinced the result would "have been very different" without the support of the Indy and of Corio MP Richard Marles' office.
"The thing that disappoints us more than anything is there was no consultation," she said.
"It couldn't just be Geoff and I talking to them – it had to be the heavy weights.
"But it just shows what you achieve with a little common sense and a little influence."
She warned residents to be wary as the NBN began marking hundreds of sites around Geelong for the cabinets.
"If residents don't see it residents won't know," she said. "If we hadn't seen that happening it would have been built in a few months.
"Residents need to be informed before there's any marking, measuring or planning that takes place."
Mrs McGarigle encouraged residents to be "proactive" and contact the NBN Co about possible nodes in their street.
"The outcome has been super for us," she said.
"Even when government bodies think they can go gung-ho and do what they like – there are other options. Residents are very powerful people."
She called for an update of the Telecommunications Act, which allows NBN Co to install fibre to the node cabinets without the consent of the landowner.
The act requires the NBN Co to consult the landowner, which in this case was council, but not nearby residents.
"If it takes a change in an Act to make NBN Co reconsider its processes then, of course, I would support that," she said.
NBN Co drops flyers to nearby residents as it conducts "design work", according to a spokesperson.
"We received no fliers," Mrs McGarigle said. "I think that happens after they've made the final decision where they will locate it."
She and 520 other people had lodged NBN-related complaints or inquiries in the electorate of Corio MP Richard Marles, according to his office.
Subcontractors marked out a square on Normandy Street for the cabinet, outside Mrs McGarigles heritage-listed home.
The Geelong stonemason James Drew built the house in 1908 and the City of Greater Geelong had recognised it as historically significant.