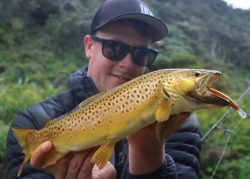 On the Bite, by Chris Pitman
Anglers ducked for cover amid last week's wild weather but those who picked a break in the weather found plenty of action.
Corio Bay fished well for pinkie snapper and flathead. Drifting over the Limeburner's Point spoil ground was an ideal option, with pike to 80cm also boated.
Australian salmon took trolled lures over the spoil grounds and Alcoa Pier.
Clifton Springs' Curlewis Bank held excellent numbers of King George whiting. Late afternoon sessions and pippie baits worked best.
Patient anglers caught snapper along the Point Richards channel. The average size was 3kg but some reached 6kg.
The squid fishing was exceptional between Indented Heads and Queenscliff. Reef area' in three to five meters saw squid to 1kg latching onto artificial jigs. I cast jigs from the beach near Bell Reef on Thursday morning for a catch of squid averaging 500g to 600g.
The few anglers who managed to sneak offshore caught gummy sharks in 30m. Also, calamari were boated in water as deep as 25m.
Lake Purrumbete was the freshwater standout. Anglers fishing mudeyes under floats among the weeds or trolling lures deep caught brown and rainbow trout to 1.5k, while dropping soft plastics to schools of redfin sounder-marked was also effective.
Lake Tooliorook produced trout for anglers slow-trolling Tassie Devils in pink #55.
Otway streams were flowing nicely, putting wild brown trout on the move for anglers using small-hard body lures or spinners. Trelly's Geelong's Adam Van Der Lugt landed a well-conditioned fish just after the rains.
The rain also fired up the Barwon River's carp in Geelong all the way down to Breakwater.
Next week's forecast improving weather suggest opportunities for targeting snapper off Clifton Springs, while freshwater fishos should try Lake Purrumbete for trout and redfin.