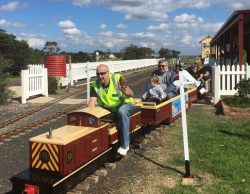 Locals can climb aboard Portarlington's most popular mini train for just $2 this Sunday, as it celebrates its second birthday.
But the train would not be the only thing available for a gold coin on the day, Portarlington Bayside Miniature Railway's Brian Coleman said.
"The great news is that everything will cost only $2. Train rides, food, drinks, ice creams… now that's not going to break the family budget."
Brian invited train enthusiasts of all ages to bring a picnic basket along for the day, with tables, a barbecue and toilets onsite.
"Help us celebrate our second birthday," he said. "Let's get everyone outside in the sun and have some playtime!"
Recently, Portarlington Bayside Miniature Railway called for new volunteers.
The railway was searching for versatile volunteers to fill several different positions, such as drivers, guards, signallers, maintenance crew, kiosk and station staff.
Brian praised those already giving up their time to keep the railway going.
"A big thanks to all volunteers who forgo their free time to help run the mini railway; they are priceless."
The $2 birthday celebrations run from 11am to 4pm at Bayside Family Park, Portarlington, on Sunday.
"Fingers crossed for lovely summer weather," Brian said.
The vintage railway station has a signal box with an undercover platform, which seats up to 70 guests.
The miniature train winds through parklands from Point Richards station on the Geelong region's only 7.25-inch and 5-inch miniature railway.
For more details, phone 0476 124 598.