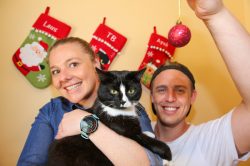 By Luke Voogt
Newtown 31-year-old Laura Johnsey has "never had a real Christmas" – or the turkey that comes with it.
But all that changed after she became one of this week's Talkin' Turkey winners.
"Omg I've won a turkey!" she said when the Indy's Christmas correspondent called.
Laura grew up in a "broken home" and her mother struggled with mental illness.
"I got through that and got myself through uni to do the work I do now," the youth worker said.
She and housemate Tom Bliss were making up for lost time preparing a traditional Christmas with the newest addition to their household – GAWS rescue cat Ayah.
"What better way to celebrate this year than with a turkey, my cat and my new housemate – they're like my adopted family," she said.
"Ayah's such a good, loyal cat. She'll probably get half the turkey."
Last week's turkeys were in the advertisements of The Joker Shoppe, The Big Shed, Geelong Wheelchairs, Chef's Essentials and Toyworld.
The five turkeys are hidden in separate ads again this week.
To go into the draw, entrants must supply their name and phone number along with the business names of the five advertisers with a hidden turkey each.
To enter email indy@geelongindy.com.au, leave a message on Talkin' Turkey hotline 5249 6721, or lodge in person at the Indy's office, first floor, 74-78 Moorabool Street, Geelong.