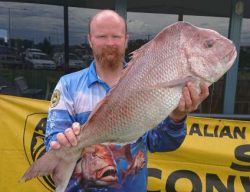 On the Bite, by Adam Van der Lugt
Some of the warmest November days in recent memory resulted in fantastic fishing over the past week.
Snapper were the main target inside Corio Bay, with anglers finding fish to 5kg – just out from Clifton Springs and around Wilson Spit. According to most reports, the average size was around the 2kg to 3kg, with silver whiting and fresh squid the favoured baits.
Anglers fishing baits for snapper in these areas should also try throwing around soft plastics for few flathead, which are in good numbers at the moment and can save the trip if the snapper don't bite.
The inner-harbour fished well for flathead on bluebait and soft plastics. The Gulp Turtleback worm rigged on a 1/8oz jighead and worked along the bottom is the most-productive method, with snapper, pinkies, trevally and pike possible by-catch.
The squid fishing was exceptional along the Bellarine Peninsula from Clifton Springs to Queenscliff last week. Size 3.5 jigs in blue or green colourations worked best.
Fishing offshore from Barwon heads and Breamlea was productive on the clam days.
Peri and Fez launched at Barwon Heads over the weekend, finding flathead around the 50cm mark, snapper to 2kg and both arrow squid and calamari on the bite in 50m. Catching fresh slimy mackerel for bait was a great idea, with each drop producing a fish.
Williamstown Sport and Game Fishing Club ran ANSA's Port Phillip Bay convention last weekend, with the boundaries encompassing the bay and its estuaries. Competitors weight in many great fish, the standouts including a Frank Aarsman's 2.8kg flathead and Frank Naylor's 5kg gummy shark – both taken in Swan Bay – along with Danny Sparks' 1.8kg Australian salmon from The Rip.
Two kingfish to 2.5kg were also weighed, one caught at Portarlington and the other at Bell Reef.
Local freshwater fired up with redfin in the Barwon River and local lakes. Fishing small minnow-style lures around Queen's Park was a good option, accounting for fish to 800g.
Anglers fishing the same area with corn or bread for baits tangled with carp to 5kg.
Lake Purrumbete was back on the radar with brown trout nudging 10lb caught on Tassie Devils and mudeyes. Working the north and north-east corners of the lake on sunrise and late afternoon produced the best results.
Lake Tooliorook and Deep Lake remained hot spots for brown and rainbow trout on trolled Tassie Devils in pink or yellow winged frog patterns.
Land-based anglers fishing baits didn't need to walk too far from their cars, with the boat ramps at both lakes providing ideal bases for casting out Sherbet Powerbait or mudeyes.