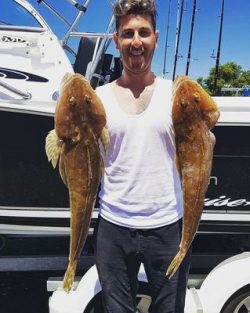 On the Bite, by Chris Pitman
From snapper to trout, anglers had no trouble finding mixed bags over the past week.
Clifton Springs was hard to go past for snapper, with the fish spread out along the Point Richards Channel and keen on silver whiting or pilchard baits. Daniel Sparks and Doug Boon spent a morning chasing the snapper, boating excellent fish to 8.3kg on light line.
Closer in, the Curlewis Bank also produced snapper for anglers drifting and casting soft plastics. Pike to 1m featured as bycatch along with the odd flathead to 50cm.
St Leonards Pier continued giving land-based anglers the chance to catch squid. Casting size 3 artificial jigs during the evenings was successful, with some anglers managing four to five squid a session.
The Bourke Street area remained a hotspot for King George whiting. Anglers again took bag-limit captures of one the region's best-eating fish.
Swan Bay's channel provided mixed bags during the run-in tide. Pinkie snapper, silver trevally, flathead and pike all took soft plastics rigged on jig heads just heavy enough to reach the bottom.
Bait fishing the channel into the night produced gummy shark from 4kg to 6kg along with snapper to 4kg. Pilchard and squid were the standout baits.
Offshore areas provided excellent opportunities for bagging tiger flathead. Fez Sepic had a ripper session on the drift, landing impressive tigers to 54cm.
Other offshore anglers continued catching gummy shark and snapper in 30m to 40m.
The Barwon River estuary fished well for small Australian salmon along the Sheepwash section. King George whiting held around the lower reaches, with anglers banking fish to 35cm on pippies.
Surf fishos again caught salmon on Sea Iron Pelacus lures. Fish of 2kg were landed, especially during the lead-up to high tide and northerly winds.
Freshwater anglers had little trouble finding trout. Lake Purrumbete gave up plenty of rainbows to 1.5kg on mudeye fished near the weed, while other anglers also reported brook trout to 1kg.
Trolling the east bank with Tassie Devils never stopped working, with anglers this week finding some nice brown trout.
Lake Tooliorook was an excellent option for land-based anglers who had caught rainbow trout to 2.5kg with Powerbait on running sinker rigs cast out from the jetty. Trolling with pink #55 Tassie Devils also caught trout.
Redfin snapped up lures along the Barwon River in Geelong. The Megabass Siglet lure caught plenty of fish while avoiding snags.
Next week's weather forecast is promising. Try targeting snapper between Portarlington and Clifton Springs, while mixed bags are sure to be available from Swan Bay's channel.
Freshwater enthusiasts could head west for the variety of fish at Lake Purrumbete.