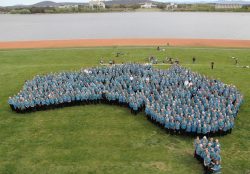 Sing Australia Geelong's members have brought back harmonies from across the country and the world, says group leader Mary Simms.
"We have had a few Geelong members travel overseas – one sang with Sing Australia in Gallipoli on Anzac Day," she said.
The Geelong choir brings its latest show, Harmonies on the Hill, to Newtown this month.
The choir is one of 600-plus in national group Sing Australia, which runs three overseas tours and a national gathering of up to 1200 singers.
Sing Australia Geelong performs at the Point Danger Dawn Service on Anzac Day, aged care homes, weddings, funerals, nationalisation ceremonies and other events.
The love singing was what brought the group together, Mary said.
"It is not an auditioned choir – it is very much a community choir. Everyone in the group just loves to sing."
Singing was great for health, Mary said.
"Singing brings you pleasure, it increases your self-confidence and is very beneficial to your physical health increasing stamina and creating feel-good endorphins."
Harmonies on the Hill starts at 2pm on 26 November at the St Joseph's College Performing Arts Centre. Entry is $10, including afternoon tea.
Sing Australia Geelong meets on Wednesday night from 7.30-9.30 at the Belmont Senior Citizens Hall.
"We have many members who have been with us for in excess of 10 years and welcome others joining us at any time," Mary said.
Phone Mary Simms 0419 278 456 for more information.