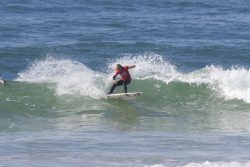 Barwon Heads surfers Ellie Harrison and Zeph Lamperd used their local knowledge to dominate the waves in tricky conditions at Ocean Grove over the weekend.
Harrison and Lamperd claimed the under-14 girls and boys titles at the Surfer Groms Comp on Saturday.
Harrison used her superior wave knowledge at the break to finally take out top honors, locking in a heat total of 11.40 points.
"Every time I have got second at this event, so it's nice to finally win," Harrison said.
"The waves weren't very good, but it was a fun event."
Lamperd and Harrison will receive an all-expenses paid trip to the Surfing Australia High Performance Center in north NSW for their efforts.
"I can't wait to get up to the High Performance Centre again and go on their massive skate ramp," Harrison said.
Lamperd was dominant in the final, throwing down massive power turns on his way to a 14.86 heat total.
"It's awesome to win here at Ocean Grove," he said.
"All that time surfing here when it has been windy has paid off.
"I have never been to the HPC before, but I've heard its epic. I am looking forward to surfing in some warm water and learning from the coaches up there."
Placing in second in the under-14 boys final was Willis Droomer (of Jan Juc) who finished on 12.14 points.
Asher Lens (Aireys Inlet) and Charlie Mahoney (Ocean Grove) finished in third and fourth respectively.
Jazz Wylie (Jan Juc) placed in second in the girls on 10.40 points. Mia Huppatz (Jan Juc) and Elise Franzose (Point Lonsdale) finished in third and fourth.
Other winners throughout the event included Willis Droomer (Jan Juc) who impressed judges with his aerial game in the under-12 boys and Isla Huppatz (Jan Juc) in the girls.
Remy Filer (Jan Juc) and Ruby Trew (Seaforth, NSW) won in the under-10s and Teal Lamperd (Barwon Heads) won the under-8 mixed competition.
Lucas Hickson (Rye) and Sarsha Pancic (Bairgowrie) won the best-and-fairest award for the event, taking home a $250 Woolworths voucher each.