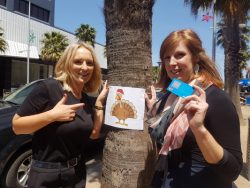 Geelong Indy readers will gobble up great prizes over the next five weeks as the city's only community newspaper celebrates the festive season.
The 11 November edition kicks off the annual return of everyone's favourite Geelong-only competition, Talkin' Turkey.
Each week the Indy will hide a turkey in five separate advertisements – readers who find each bird can identify the advertisers to go into a draw for one of five weekly turkeys.
That's 25 tasty turkeys to give away over the next five weeks – just in time for Christmas! Gobble-gobble!
But, as usual, that's not all.
Each week for the five weeks the Indy will also give away two Market Square Shopping Centre gift cards worth $100 each.
That's $1000 of spending money at the biggest time of the year for shopping!
All the details for entering both competitions will be in next week's Indy.
Anyone outside the paper's circulation area can also find the entry details or play Talkin' Turkey by using the Indy's E-paper, available at geelongindy.com.au.