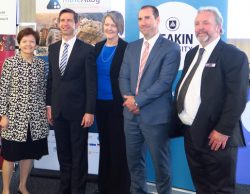 By Patrick Laverick
A new business incubator will lift Deakin University's high-tech workforce at Waurn Ponds to 1900 by the end of the year, according to Professor Peter Hodgson.
The Manufutures incubator would accommodate up to 50 small manufacturers to boost the university's existing research workforce, the vice chancellor of research said.
Manufutures would add around 200 jobs to an existing 1000 researchers on-campus and another 700 equivalent full-time staff at neighbouring Epworth Geelong, Prof Hodgson said.
He revealed the jobs boost while helping launch MineAlloy, Deakin's Australian-first research centre for metal alloys used in mining equipment.
Geelong was well-equipped to support the workforce demands of high-tech research, he said.
"What's attracting companies to move to Geelong is that, with the people from Ford and Alcoa, there's a ready-made workforce here. That's why Carbon Revolution stayed in Geelong rather than go somewhere else."
Manufutures would open in December to support the growth of smaller manufacturing companies, Prof Hodgson said.
"(It's) really a proof of concept building where if you've got an idea you can do the laboratory tests, you can actually test it on a semi-commercial scale.
"It can accommodate up to 50 companies … they will, hopefully, become future companies in Geelong."
MineAlloy director Professor Matthew Barnett said the Manufutures tenants could employ Geelong's former car-manufacturing workers.
"You see what's happened to automotive and you've got a lot of expertise on alloy development for automotive, which in Australia is on the decline," Prof Barnett said.
"But we've consciously said we need to support the companies that produce for the mining sector because that's not in decline.
"Technology is the only way to stay at the top of the game, really, so that's why we've been able to attract the companies together; using the automotive cleverness that we've developed with the alloys, that's one thing we're consciously doing."
This week the CSIRO also announced it had produced Australia's first "home-grown" carbon fibre with the assistance of Deakin's researchers.
CSIRO chief Dr Larry Marshall said Deakin's Carbon Nexus research facility produced the high-tech material.
"This is another chapter in the innovation history of Geelong, where Australia's first carbon fibre was created from scratch using CSIRO produced white fibre," Dr Marshall said.