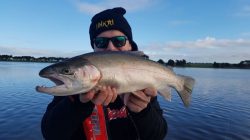 On the Bite, by Chris Pitman
Strong winds forced anglers to seek shelter around Corio Bay last week.
The spoil grounds just out from Limeburner's Point boat ramp produced snapper to 3kg for anglers fishing pilchards and silver whiting. Impressive flathead to 50cm were taken as bycatch.
Soft plastic anglers continued to enjoy success around the waterfront. Casting Gulp turtleback worms caught pinkie snapper, pike, salmon and flathead.
Clifton Springs snapper were a major target, with the breaks in the weather allowing some anglers to bag fish to 8kg along the Point Richards Channel. Trolling Rapala Tail Dancers within 1m of the bottom led to catches of fish around 3kg.
Land-based anglers found caught squid from St Leonards Pier during the evenings.
Nearby, the ever-productive Bourke Street area gave up whiting to 40cm. Fishing into the evening saw anglers boat bag-limit captures.
Swan Bay's channel fished well on incoming tides for whiting, salmon, pinkies, flathead and even squid. Gummy sharks and larger snapper were taken after dark.
Queenscliff Harbour's entrance produced quality pinkie snapper and King George whiting for land-based anglers' whiting baits on paternoster rigs.
The nearby grassbeds were patchy for whiting, while large squid continued taking jigs worked deep in the Queenscliff bight.
Surf anglers had a ball on Australian salmon along the Surf Coast. Spinning with 25g to 40g lures was most effective.
Fishing fresh squid baits from the beaches at night was an option for targeting gummies.
In freshwater, Lake Tooliorook hosted sensational fishing for rainbow and brown trout to 2kg on Tassie Devils rigged with Dancing Jack assist hooks. Peri Stavropoulos put in a few trips, landing numerous trout to 2kg.
Lake Purrumbete gave up trophy browns to an outstanding 5kg along with plenty of 1kg to 2kg on mudeyes or while trolling the east bank at light changes.
Bait fishing for Chinook salmon was red-hot at Lake Bullen Merri. Anchoring near Potters Point and fishing pilchard fillets in a berley trail resulted in fish of 2kg.
Powerbait fished from the bank of Lake Bolac accounted for rainbow trout averaging 1.5kg.
Next week's weather should allow fishing for snapper at Clifton Springs or Portarlington, while St Leonard's Bourke Street will be reliable for whiting. Freshwater anglers should try for trout at Lake Purrumbete.