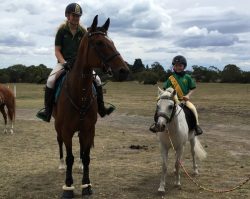 By Luke Voogt
The Leopold Drysdale Pony Club was a huge part of Lorna Ryman's life, according to daughter Janet Niuwenhuis.
"I think horses get in your blood," Janet said. "She cultivated the obsession with her children, that's for sure."
Janet's son Will, 7, cut the ribbon for a memorial bench dedicated to his late grandmother during the club's 40th anniversary on Sunday.
The club also planted two trees in honour of the late long-time member, who died at age 70 last year.
"It was lovely," Janet said. "Unfortunately she died five days before Will attended his first pony club rally."
Lorna was involved in Leopold Drysdale Pony Club for as long as she was able, Janet said.
"Both my mum and dad were office bearers of the club. When my niece Abbey started riding my mum and dad got involved in the club again."
Her beloved club rallied around her and her family when she fell ill.
But despite her death her love for all things equine lives on in her children and grandchildren.
"We drive out to my sister's property in Drysdale to ride every time we get the chance," Janet said.
The club celebrated its 40th anniversary at Lake Lorne Reserve, Drysdale, with a '70s-themed rally on Sunday.
Many original members returned to the old clubrooms, which they built after auctioning a horse to fund it.