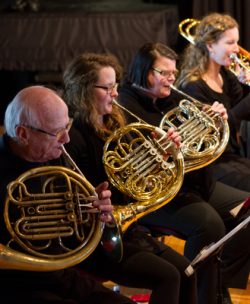 By Luke Voogt
Symphonic talent runs in the blood of Orchestra Geelong, which features some of the city's most musical families.
Highton hornist Malcolm John will play alongside wife Alison and daughter Sara Senftleben in the orchestra's final concert for the year on Sunday.
"I've been involved in it for an awful long time," the 82-year-old told the Indy on Monday.
He and his flautist wife of 54 years shared a love for music, which they passed on to their daughters.
Sara played viola in Orchestra Geelong while their other daughter Michelle played in a Melbourne-based symphony.
"If you're surrounded with music when you grow up I guess you grow a connection with it," Malcom said.
And the talent and passion had appeared in the next generation too, with grandson Oscar joining the orchestra alongside mother Sara.
Oscar studies music at the University of Melbourne and played the trumpet with the orchestra for most of 2016.
"But now he's tied up with programs up in Melbourne so it's a bit difficult for him to find time," Malcolm said.
But theirs is not the only family combining their musical talents on Sunday.
Kathryn Aston-Mourney, 36, will play alongside mother Lyndall Mourney, 61, who remains her biggest fan.
"I think it makes her proud," Kathryn said. "She always gets excited when I play a solo."
The Deakin University medical researcher grew up in Leopold and joined the orchestra at age 11.
The two symphonic families played alongside Geelong residents from all walks of life, Malcolm said.
"We've got all sorts of people in there from doctors and teachers, to builders and universities students.
"None of us are paid – everyone does it for the love of it."
Malcolm has taught and played music for nearly his life.
"I just believe in the power of music and its ability to bolster society as a whole," he said.
He was thrilled to welcome the orchestra's newest member Audrey Moore, who will perform a bassoon concerto on Sunday.
"We're always on the lookout for new players," he said.
"We've got 17-year-olds through to me – I must be about the eldest I think. It's a real community effort and we take on some really ambitious themes."
Geelong Ballet School will join the orchestra as part of this weekend's theme, Let Us Dance.
"We're rehearsing tomorrow night," Malcolm said. "It's thrilling when we get it all together."
Orchestra Geelong presents its final concert for 2017 in the GLS Auditorium at the Keith Humble Centre 3pm on Sunday.
"The theme of dance is maintained with delightful music by Strauss and Tchaikovsky, Brahms and Saint Saens," Malcolm said.
Phone 0448 313 462 for tickets or purchase them at the door.