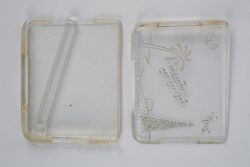 Lara RSL has made an "important contribution" to Australia's wartime understanding with a cigarette case made from the windscreen of a Japanese Zero fighter plane.
The "historically significant" Word War II relic will appear in a curated display supporting a national initiative digitally preserving 100,000 objects, according to a Museums Victoria spokesperson.
The cigarette case was an example of "trench art" made from "the debris and by-products of warfare", the spokesperson said.
"The object makes an important contribution to our understanding of Australian soldiers' experience of the war.
"Normally located at Lara RSL sub-branch, the cigarette case is catalogued online through Victorian Collections, a central portal to Victoria's rich cultural heritage and diverse histories for use by historians, researchers and the general public.
"Victorian Collections allows members of cultural organisations to capture and store critical information about their collections in a safe and secure manner, and publish the resulting records online. Lara RSL Sub-branch joins hundreds of groups in contributing to this growing database of objects.
"These objects represent the breadth and diversity of cultural materials made accessible through Victorian Collections – spanning fine art, war heritage, sporting culture, technology and innovation, archaeological finds, and social history."
More than 450 organisations across the state had contributed to the collections initiative, Museums Victoria said.
Other examples of contributed items ranged from "a mummified cat and Ned Kelly's cartridge case to a koala tea-cosy", the organisation said.
The Lara cigarette case and other items go on display at Melbourne Museum on 26 October.