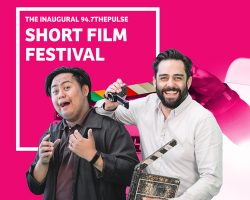 Entries have opened for Geelong's first Pulse Film Festival.
Local filmmakers, expert and novice, would have the chance to see their films showns at Pivotonian Cinema and at Pako Festa, organisers said.
The festival's four winning films would receive cash prizes of $500.
The festival is the brainchild of a group of local creatives involved with Geelong's community radio station 94.7 The Pulse.
Actor and Pulse employee Simon Finch saw an opportunity to showcase local talent.
"Mark Salazar and I were making some music videos for the City of Greater Geelong and driving from location to location and we were talking about how we would get a film festival going," he told the Indy.
They then spoke to Pako Festa's Luisa Lafornara and that's when the festival was born.
"The films are going to be one to three minutes and can be from a smartphone right through to a professional movie camera," Finch said.
"It can be anything from a documentary to a non-narrative piece."
The finalists will have their work showcased at the Pivotonian.
"We reached out to The Pivotonian. They were on board from the start, and have agreed to screen the winning films," Finch said.
"Twenty of our best films will be showcased on a big screen during Pako Festa in 2018."
The theme for the film festival is 'Reflections of Culture'.
"We don't mind what genre it is, the aim is just to get people thinking about their own individual culture," Finch said.
"In Geelong we have all the ingredients for a great film short festival: fantastic local artists, great locations, an independent cinema and a great cultural event. It just seemed obvious that we needed a film festival too."
Finch says the festival is hoped to be an annual event.
Entry is $10 per film and closes 15 December. Details are available at thepulsefilmfestival.com.au.