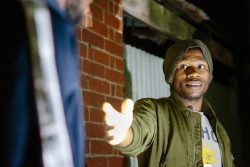 By Justin Flynn
Young refugees have used their experiences of racism in Geelong for a new mixed-arts theatre production.
But despite the inspiration for Six Hours in Geelong, cast member Alain Bakulikira said he was still proud of his home town.
"We all do experience racism in different ways," said the 22-year-old, who was born in the Congo and raised in Kenya before moving to Australia aged 14.
"I used to think back in Africa that racism didn't exist but since coming here I have found that it does exist.
"In this production we want to show that we can all be as one and work as one – we want to show that Geelong is still alive.
"It's a town where I am proud to be for the rest of my life. I want people to see that Geelong is a place to come to."
Six Hours in Geelong combines rap, spoken word, cultural dance and songs.
The Geelong Edge Ensemble production was based on a true story about young refugees witnessing an Islamophobic incident on a Melbourne-Geelong train, prompting them to question their identity, friendships and sense of belonging.
The ensemble comprises 11 young artists from Middle Eastern, Pacific and African backgrounds.
Bakulikira said the production had drawn the cast close together.
"I was struggling with my script and it was a moment I will never forget – they came over and helped with my words.
"We've been through ups and downs together but they're like family to me," he said.