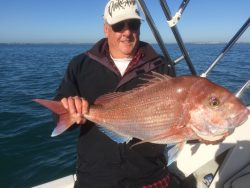 On the Bite, by Chris Pitman
Large numbers of pinkie snapper were taken from the shelter of Corio Bay over the past week.
Fishing soft plastics allowed to sink to the bottom beside structure in deep water produced fish to 50cm.
Anglers drifting the spoil grounds near Limeburner's Point with plastics also boated pinkies along with flathead around 45cm. Bumping along the bottom was key to success.
Alcoa Pier fired up for Australian salmon, with slow-trolled lures working well.
Clifton Springs sprang into action with snapper moving up and down the Point Richards channel.
They seemed to switch on around an hour either side of the tide change, especially for anglers fishing lightly weighted pilchards.
Fish to 6kg were reported but patience was required, with the water temperature yet to reach the optimal level.
Allan Brow and Greg McKinnon had an excellent session on Monday, boating a snapper each of 5.2kg and 6.1kg respectively.
Portarlington's new harbour continued providing land-based anglers with excellent opportunities. Peri Stavropoulos and I fished in the harbour on Friday night with gulp turtleback worms for a catch of pinkies to 50cm along with the odd silver trevally.
St Leonards continued fishing well for King George whiting, with the Bourke Street area though to the sub near Swan Bay producing fish to 40cm on pippies and squid. Tidal flow helped fire up the action.
St Leonards Pier kept anglers entertained with squid on size 3 artificial jigs cast around the lights at night.
Swan Bay's channel produced the odd gummy on the run-in tide at night. Fresh squid was the preferred bait.
Queenscliff gave up some monster squid. Anglers fishing deep in the bight pulled specimens of almost 2kg.
Whiting dominated evening captures from the grass beds east of Queenscliff Harbour. The average size was slightly bigger although the fish were more finicky than at St Leonards, but willing to take pippies on running sinker rigs with enough lead to hold bottom.
The Barwon River estuary was a hot spot for mixed bags of salmon, trevally, mullet and whiting.
Freshwater anglers did well at Deep Lake along with lakes Bolac and Toolirook. Quality brown and rainbow trout over 2kg were taken on a variety of tactics.
Bait anglers favoured Powerbait for rainbows, while Daiwa Double Clutch 65s were ideal for casting around the lake margins for both species. Trollers favoured Tassie Devils in white or pink at 3km/h.
Stony Creek Reservoir continued fishing well on lure or fly for smaller brown trout to just on 1kg. The odd redfin was also a welcome by catch.
The next week should present opportunities for snapper along the channel from Clifton Springs to Portarlington, while Queenscliff could be worth a shot for big squid and whiting.
Meanwhile, plenty of bargains and guest speakers will feature during Trelly's Tackle Spectacular at Geelong Marine World from 6.30pm on 20 October, with entry costing $10.