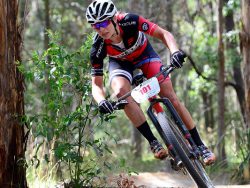 More women should saddle up for the region's premier mountain bike marathon in February, according to organisers and a defending champion.
The next Otway Odyssey would have a "particular focus" on increased female participation, the organisers said.
Next year's event would incorporate an Otway Angels program to help women overcome "barriers" to mountain bike racing.
Otway Angels included skills programs, partnerships, networking opportunities and other events "to help improve the accessibility of the sport to female riders", the organisers said.
Shorty 50km champion and event ambassador Kim Willocks welcomed the initiative, saying she would "love" to see more women competing.
"Peddling through the bush on a mountain bike during a race, a social ride or even solo is so fulfilling," Willocks said.
"My advice to any females considering entering an event like the Otway Odyssey, who are a little apprehensive about taking the leap, is to choose an event like the 30km Pioneer designed for beginner riders, train as much as you have time for, and just have fun and enjoy the moment.
"This will be my fourth time racing the Odyssey. I love testing myself by racing my bike, especially through the bush alongside equally competitive riders."
Four time 100km Odyssey champion and reigning Queen of the Otways Peta Mullens said the event was her first "challenge".
"Over the years the course has changed, and it's gone from my most feared (cross-country event) to my most loved," Mullens said.
"I remember the walking and the mud in the early days. Instead of beastly climbs, the track is made up of flowy single track for days – it really is a mountain biker's marathon with all the sick single tracks."
Entries opened this week for the event's several categories, including the blue-ribbon 100km Odyssey.