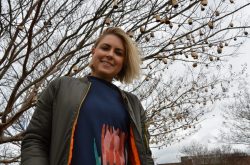 A Geelong artist has chimed in with 700 bells to try spreading harmony in Melbourne's troubled south-east.
Manifold Heights' Jasmine Grace has installed the golden bells in a Noble Park tree to symbolise the suburb's cultural diversity.
"I came up with the concept of the Harmony Tree and wanted to find an area that was quite multicultural," Ms Grace said.
"I'm studying a master of public art at the moment and one of my lecturers suggested Greater Dandenong Council to me."
Ms Grace used bells of all shapes and sizes, made in India.
"That's one of the things that was important to me – making sure they make different sounds to symbolise how having the uniqueness of the different sounds and the diversity of different sounds, you can create harmony through diversity," Ms Grave said.
"I basically hired a ladder and I spent two days up in the tree installing, tying them onto the tree with fishing wire."
Ms Grace hoped the installation would affect passers-by as an "interruption to the business of their lives".
"I also really wanted to create a gathering place that was peaceful for people, but also I want it to be symbolic of just encouraging people to embrace the diversity of cultures within the community."
Melbourne's south-eastern suburbs have suffered a series of recent anti-social crimes, including rampaging gangs at shopping centres and numerous home invasions.
In December the RACV reported a 40 per cent increase in aggravated burglaries across the south-east.