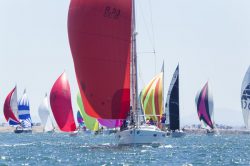 By Luke Voogt
The Royal Geelong Yacht Club has scaled back stage one plans of its waterfront redevelopment by $5.5 million following a Federal Government funding rejection.
The club had originally planned a $19m first stage with $9m from the Federal Government's Building Better Regions Fund, said general manager Phil Clohesy.
But the Commonwealth rejected the club's application.
"We had anticipated that would be real challenge to get up," Mr Clohesy said.
"We just didn't meet all their criteria is the way they put it."
But Mr Clohesy said scaling back the funding could help the club get the "vital" Geelong Waterfront Safe Harbour Project underway sooner.
"We said 'what can we do in the interim while we're still pursuing funding from various agencies, including the Federal Government?'
"We've just been encouraged by our funding partners to get the project up and running."
Mr Clohesy welcomed City Hall reconfirming its $3m commitment to the revised project on Wednesday night.
He said beginning construction could "open the door like it did for Simonds Stadium", which had undergone $177m in renovations since its stage one development in 2003.
"Once construction starts the waterfront becomes a much greater focus."
But Mr Clohesy declined to detail which elements of stage one that the club would scrap with the revised budget.
The club had acquired $4m from the State Government and was chasing $3.5m from Victorian School Building Authority for the sailing school component of the project, he said.
"We'll be in a position to announce what elements of the first stage would change once the funding is fully committed."
The club had made a further application for Federal funding to the $20 Geelong Regional Jobs and Investment Package, he said.
"We anticipate there are some further funding announcements imminent which will allow us to commence the project on a $13.5m basis."
The Royal Geelong Yacht Club would commit the remaining $3m for the project, Mr Clohesy said.
In a statement on Thursday, City Hall said it had extended its offer of $3 million to club until December 2018 to give it time to secure additional funding.
The statement stressed the importance of ensuring the building of public open spaces in stage one "given the uncertainty around funding for future stages".