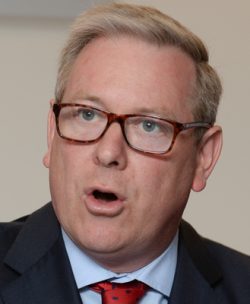 By Luke Voogt
Geelong's administrators have burdened the city's future council by deferring almost $36 million in loans, according to the state opposition.
Shadow local government minister David Davis slammed the administrators after revelations last week that they had deferred the loans in their latest budget.
"The administrators' deferral of $36 million in loans to future councils is kicking the can down the track to future ratepayers," he said.
In 2016 then-Local Government Minister Natalie Hutchins accused Geelong's councillors of "financial mismanagement" when she sacked them and appointed administrators.
"The Geelong administrators' performance has been patchy, despite Labor and Daniel Andrews claiming a reason to sack the council was poor financial performance," Mr Davis said.
"Despite all Natalie Hutchins' interference, debt has increased."
Mr Davis blasted Ms Hutchins decision to appoint 'monitors' Peter Dorling and Jude Munro to watch over the next council, at a cost to Geelong ratepayers.
"The government's decision to appoint monitors at a further cost of $480,000 reflects a minister and government addicted to interfering with a democratically elected level of government."
Administrator chair Kathy Alexander last week praised the City's financial management despite the administrators' final budget projecting a loan balance of $125 million in 2020/2021.
"It's pleasing to see that our total loan balance – or our debt – has dropped by $9.3 million over the past year to an even more manageable $45.5 million."
The administrators deferred almost $36m in loans during the last financial year.
The 2016/17 Budget forecast $109m in loan debt in June 2020, compared to $119m forecast in the latest budget.
Dr Alexander last year stated her intent to tackle debt after the 2016/17 Budget set out an additional $50m in new loans, on top $55m in existing debt.
The budget forecast a total debt of $93m by June 2017.
"I think we've got to look at a budgeting process year-on-year that actually looks to pay down those debts really quickly," she said at the time.
Ms Hutchins, who this week relinquished the Local Government portfolio for another ministerial post, defended the administrators' financial performance.
"The administrators have played an important role in getting Geelong Council back on track," she said.
"I'm confident that as the administration period ends, council will be in a far stronger place to deliver for its community than it was at the start of this process."
Ms Hutchins said the problems identified at Geelong Council, including financial mismanagement, were deep rooted and would take years to fully rectify.