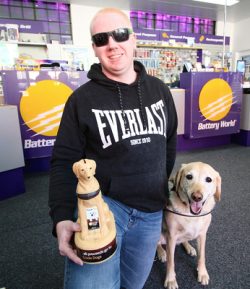 Two Geelong shops are charging up a fund-raiser seeking names for guide dog puppies.
Newtown and Waurn Ponds' Battery World stores are seeking entries for Guide Dogs Australia's national Name the Puppy Competition.
The stores' franchisee, Roger Langham, said customers could put their suggested dog name on a label in-store for a $2 "donation" to Guide Dogs Australia.
"And here's a tip: according to dog naming manuals, anything with two syllables is best," Mr Langham said.
"At the end of the day, whether you pick Rover or Ruby it's a terrific opportunity to get behind a great cause. You never know – your favourite name might get picked."
Guide dog user Glen Bracegirdle was unsurprised to learn that his dog's name, Bronny, meant blessed, since he felt the same every day from the pair's bond of friendship and caring.
Mr Bracegirdle credited Bronny with saving his life countless times while also helping him live with greater independence.
"She's my best friend – I trust her more than I trust most people," he said.
"She's my eyes and often my ears especially with electric cars that are a nightmare for blind people. Not only can we not see them but we also can't hear them, but thankfully Bronny does.
"Bronny is such a great name and suits her nature, too. She can take me through an airport, even to the cheese section in the supermarket.
"I walk to work every day with her, and it takes me 15 minutes. If I had to use a cane it would take me 45 minutes or I would have to rely on someone else to drive me."
Mr Bracegirdle praised the role of guide dogs in the lives of the people who depend on them.
"They really do change lives," he said.
The competition closes on 21 October.