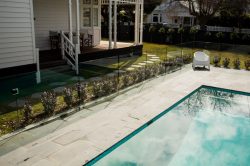 With more than 40 years' experience in the glass industry, award-winning glazier Modglass has the know-how to refresh your home this spring.
"Looking to make the most of your space during the warmer months?" says owner Mark Sostheim.
"We will help to transform your space."
With quality products and the latest developments, Modglass can customise its work to suit any customer's needs.
The company offers fencing designed to enhance the family pool as the warmer weather arrives.
"Our frameless and semi-frameless options give you uninterrupted views with no compromise to the aesthetics of your pool area, allowing you to enjoy your outdoor area," Mark says.
"Our team can help you design your perfect pool fence to fit your space and style."
Modglass can create functional fences to suit each client's budget and individual tastes.
"Our team of residential glazing specialists are customer-focused, providing glazing excellence and efficient service to the local region."
And company's genuine, dedicated and trustworthy operators will complete all jobs to certified Australian Glazing Standards.
"With extensive experience in residential glazing, our glaziers provide guidance throughout your project," Mark says.
Modglass stock an extensive range of glass products, such as table tops, shelves and mirrors.
See more at Modglass' new website (www.modglass.com.au) or visit their Grovedale showroom for more details.