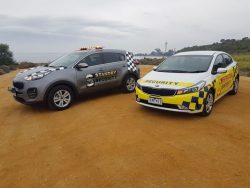 Too often people neglect to protect their most important asset – their home – says Standby Security managing director Angelo Kakouros.
"(When) building a home a lot of people overlook security," he says.
"It's probably the last thing on their mind but it should be the first thing they think about."
But Standby's state-of-the-art showroom makes it easy for new homeowners to check out the latest technology to protect their house and family.
Standby's point of difference is video and camera verification to catch crims in the act.
"When an alarm system triggers it captures video and images," Angelo says.
"It sends that information straight to our grade one monitoring station and straight to your smartphone."
Angelo established the business at age 21, has nearly three decades of industry experience and knows security inside and out.
Standby has all facets of security covered for shops and homes alike, Angelo says.
The company has a multitude of electronic products like alarms, fog cannons and cameras, and specialises in security guards and mobile patrols.
"What makes Standby Security stand out against our competitors is our superior service and technology."
As criminals get smarter so does Standby's technology, Angelo says.
"It is this approach that ensures Standby Security delivers clients the exact security solution they are looking for.
"We are very, very passionate in the community and in all the communities that we operate our businesses."
Standby's showroom is located at 400 La Trobe Terrace, Newtown, opposite Geelong Football Club.