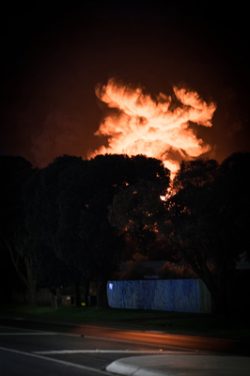 By Luke Voogt and Justin Flynn
Terrified residents fled their homes following an inferno which melted trucks and sent exploding gas cylinders flying near a Drysdale petrol station on Thursday morning.
Sally Hurst, who lives near from the site, at first mistook the explosions for thunder after they woke her family at 1.30am.
"We looked out the window and there was a massive fireball above the gumtree," the mother-of-three said.
"It was like there were bombs going off."
Mrs Hurst and her husband quickly "packed the kids and the two dogs into car" and drove to Leopold.
The family left voluntarily given the fire's proximity to the petrol station.
"We thought if that goes we're best to be away," Mrs Hurst said.
"The most terrifying part was we couldn't find out any information – it was the blind leading the blind when we left."
The family returned home at 2.30am.
"We met other residents on the side of the road and they had been evacuated by that stage," Mrs Hurst said
The fire started in a shed full of gas cylinders behind Mortimer Petroleum, on High Street, just before 1am on Thursday morning.
The CFA said the fuel tankers were holding diesel and unleaded petrol, and some of it leaked onto the ground and caught fire, making the situation worse.
Firefighters were able to contain the blaze within a few hours after evacuating 47 residents from 30 nearby homes.
Drysdale CFA captain Brendan MacDonald said the cause of the fire was unknown.
"It was unbelievable, I've never seen anything like it," he said.
"It was extremely difficult to put out with the amount of gas cylinders on the premises.
"We had to evacuate nearby residents due to the cylinders that were exploding up into the air."
The site's owner, David Mortimer, said the blaze had caused about $800,000 damage and destroyed seven fuel trucks and two gas delivery trucks.
Firefighters rescued Mr Mortimer's dad, aged in his 80s, from his home neighbouring the property.
"Dad's fine, he's tough as old boots," Mr Mortimer said.
Mr Mortimer was grateful that firefighters were able to save some of his equipment and hoped to return to work as soon as possible.
"They put up a water wall that saved the neighbours and one of my barrels that was on back fence," he said.
"I've just got to get some gear together."
The City of Greater Geelong set up a shelter for displaced people at Springdale Community Centre, Drysdale.
People living as far away as Portarlington and St Leonards heard the explosions.