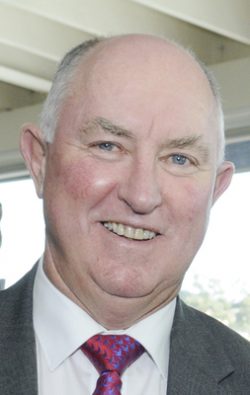 Administrator Peter Dorling will stay on at City Hall after his term ends to "monitor" Geelong's next council, the Andrews government has announced.
The government named Mr Dorling and Jude Munro as the state's two municipal monitors "to help restore good governance for the people of Geelong".
Mr Dorling, a former director of Committee for Geelong, would serve as "supporting monitor" under Ms Munro in the "primary" role, the government said.
Mr Dorling currently serves under chair Kathy Alexander as one of the Andrews Government's three part-time administrators overseeing City Hall.
Ms Munro, a former Brisbane City chief, was previously appointed to a Commission of Inquiry whose findings the government used as justification to sack the previous council.
Mr Dorling and Ms Munro would keep tabs on the next council's entire two-year term, including progress on implementing the administrators' 30-year "vision for Geelong", said Local Government Minister Natalie Hutchins.
"The pair bring considerable experience to their roles and are familiar with the challenges facing Geelong," Ms Hutchins said.
"They will monitor the council as it continues to implement the findings of the Commission of Inquiry and the council's long-term plan.
"This is a significant step towards restoring the services and governance people in Geelong deserve.
"The monitors will help council implement the recommendations from the Commission of Inquiry, and ensure they deliver the services the community needs."
The naming of the monitors follows the administrators tightening the next council's rules on public comments and burying their vision in a marked time capsule at the base of the stairs to City Hall.