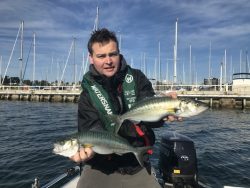 On the Bite, by Chris Pitman
Freshwater locations offered anglers relief from challenging fishing conditions over the past week.
Stony Creek Reservoir attracted anglers seeking brown trout. Long casts with spoon-type lures allowed to sink to the bottom was the most productive technique.
Redfin were snapped up along the weedier sections on spoon lures or soft plastics, while bait fishing with worms on running sinker rigs accounted for brown trout to just on 1kg.
Wurdee Boluc Reservoir again lived up to its reputation as The Lake of 1000 Cats, giving up the odd brown and rainbow trout to 2kg for anglers employing long casts.
Further west, the crater lakes continued hosting some of Australia's premier trout fishing.
Lake Purrumbete produced a wide variety of species, with keen anglers boating brown, brook and rainbow trout, Chinook salmon and redfin. Trolling lures along the east bank at first or last light worked well, while casting shallowing-diving hard-body lures around the weed banks or fishing mudeyes suspended under floats caught fish during daylight hours.
Trout season opened on the rivers last weekend, with anglers having a ball landing hard-fighting stream trout from the Rubicon and Goulbourn rivers. Closer to home, streams throughout the Otways held small brown trout.
Saltwater anglers found the going tough, amid gale-force winds. Corio Bay again provided enough shelter for anglers casting soft plastic from the waterfront to catch a few Australian salmon.
Anglers drifting in the bight off Queenscliff with baited jigs caught squid. A run-in tide or clean water was preferable.
Queenscliff Harbour produced salmon and the odd silver trevally for soft-plastics anglers.
The Barwon River estuary also provided shelter for anglers to cross paths with whiting, trevally, mullet and small salmon. Pippies on running sinker rigs was very effective.
Northerly winds allowed anglers to pitch lures from local surf beaches. Bancoora was a stand out on a run-in tide, with Sea Iron Pelacus lures accounting for numerous salmon.
Hopefully, improved weather next week should allow for anglers to target snapper off Clifton Springs, with the odd report already coming in. Queenscliff could be a safe bet for squid on the slack tide, while freshwater anglers should head to Purrumbete for sensational fishing.