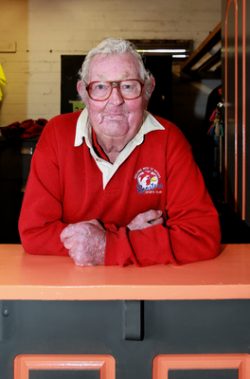 By Luke Voogt
A broken hip couldn't stop Bill Polwarth volunteering for the club he loves, and at 83 he plans to remain for a while.
"I think I've got a bit in me yet," he said.
Bill was just one of dozens of nominees, young and old and from 14 different sports, for Viva Energy's Club Legend competition.
Nominations for the awards have flooded in from all parts of Geelong, with entries closing this Sunday.
The property steward dubbed 'Mr Ed' has become "part of the furniture" after 32 years at Geelong West Football Club, according to nominator Gareth Drennan.
He volunteered as ground manager for his beloved Giants, even after recovering from a broken hip in 2010 before switching roles three years ago.
Bill earned his amusing nickname for poking his head out of the door of the club's property room, or his 'stable', Gareth said.
"He continues to work tirelessly and loves being around the club and its people. He is an inspiration to me."
Fellow sporting veteran Roger Allen received a nomination for his 56 years at North Geelong Cricket Club.
"I'm very proud to be nominated for the award," the life member of 42 years said.
Roger started in juniors as a 13-year-old and has served as coach, president and now treasurer. His grandson and two granddaughters play for the club.
"It keeps me fit and young," he said.
Gaelic footballer John Reaney and baseball player Craig Durstan showed the diversity of sports among the nominations.
John helped revive Geelong Gaels in 2013, recruiting dozens of locals. He hoped his nomination would help promote the Irish sport.
"The publicity we get the better," he said. "Any nationality that wants to give it a go can give it a go."
Guild All-stars Baseball Club members described Craig as the "backbone" of the team for his work behind the scenes, after he retired from playing.
But the 50-year-old laughed off suggestions he was a 'club legend'.
"There are a lot of people at the club who have done a lot," he said.
"I'm just there too much. They see me there all the time and wonder if I've got a home to go to."
Nominations are open until 10 September at clublegend.com.au.